THE WORLD'S FIRST
ALL-ELECTRIC SUPERTRUCK
GMC HUMMER EV
INITIAL AVAILABILITY FALL 2022
AVAILABLE
ULTRAVISION
With underbody cameras
AVAILABLE GM ESTIMATED 560+ KM RANGE
Change nearly 160 KM in 10 minutes
AVAILABLE 1000 HORSEPOWER
And 11,500 LB.-FT. of torque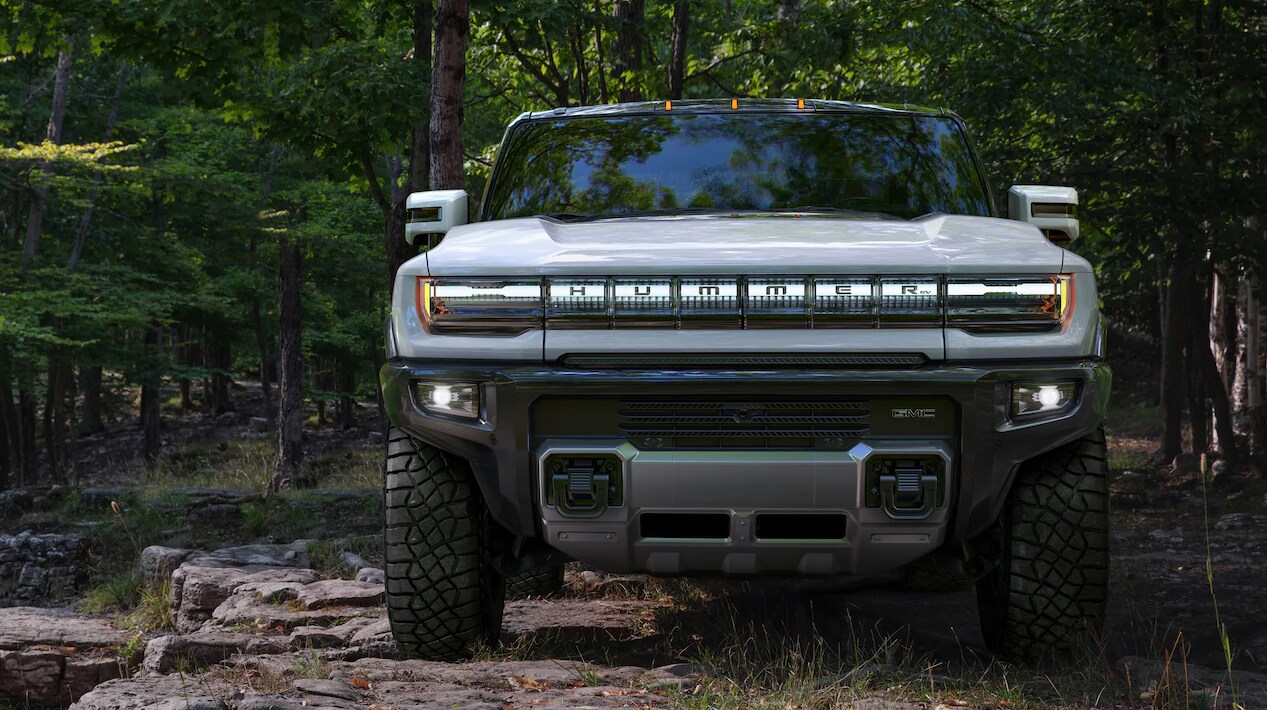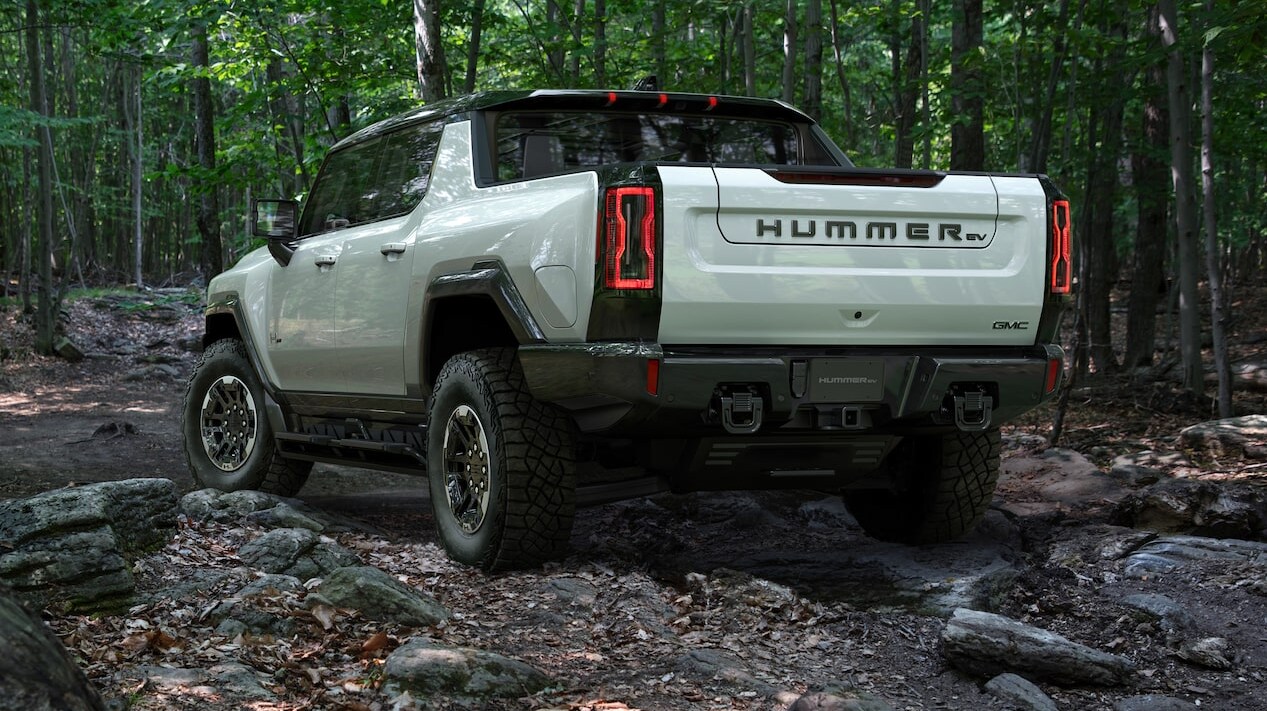 AVAILABLE WATTS TO FREEDOM
Up to 0-60 in 3 seconds (0-97 KM/H).
AVAILABLE SUPER CRUISE
Driver-assistance feature for hands-free driving with automatic lane changing on divided and compatible roads.
AVAILABLE INFINITY ROOF
With modular sky panels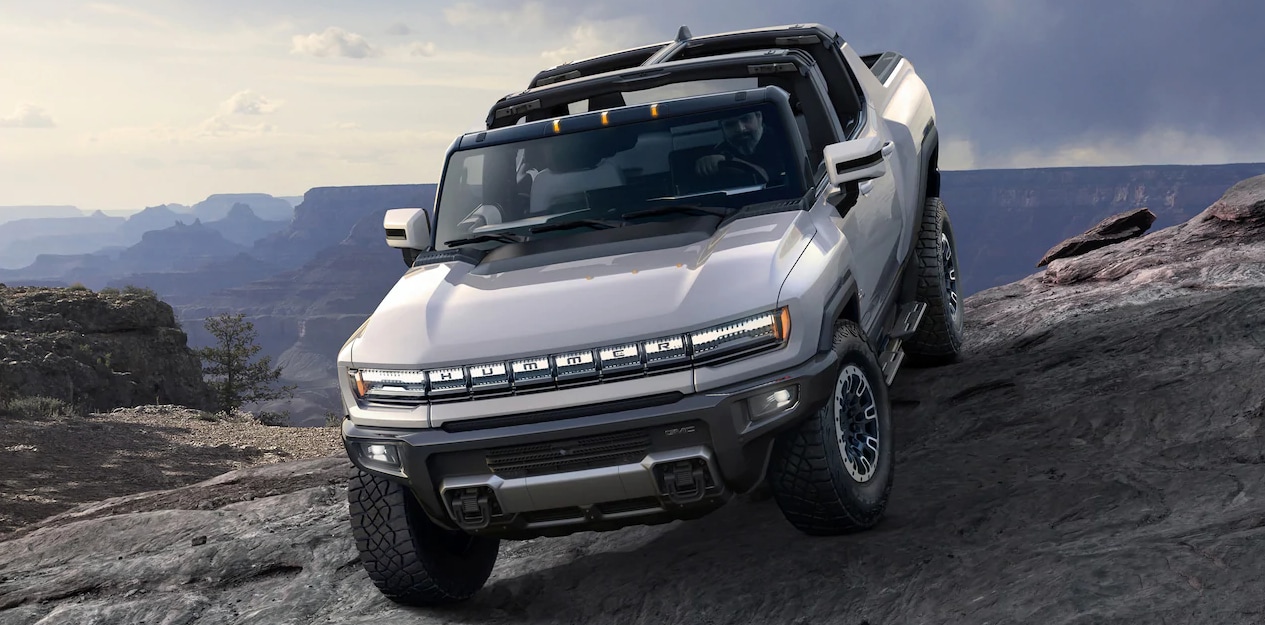 THE GAME IS CHANGED
As the world's first zero emissions, all-electric supertruck, HUMMER EV generate the power and technology to conquer the off-road with extraordinary confidence. The revolutionary HUMMER EV will leave everything you thought possible in a cloud of dust. 
 OFF ROAD DOMINANCE
To take on the toughest off-pavement obstacles, off-road dominance is engineered into every element of HUMMER EV.
CRABWALK
CrabWalk is a revolutionary available setting utilizing HUMMER EV's 4-wheel steering (its rear wheels can turn up to 10 degrees in either direction) to drive diagonally at low speeds, helping it to traverse tight trails with a capability that no other truck in its segment can match.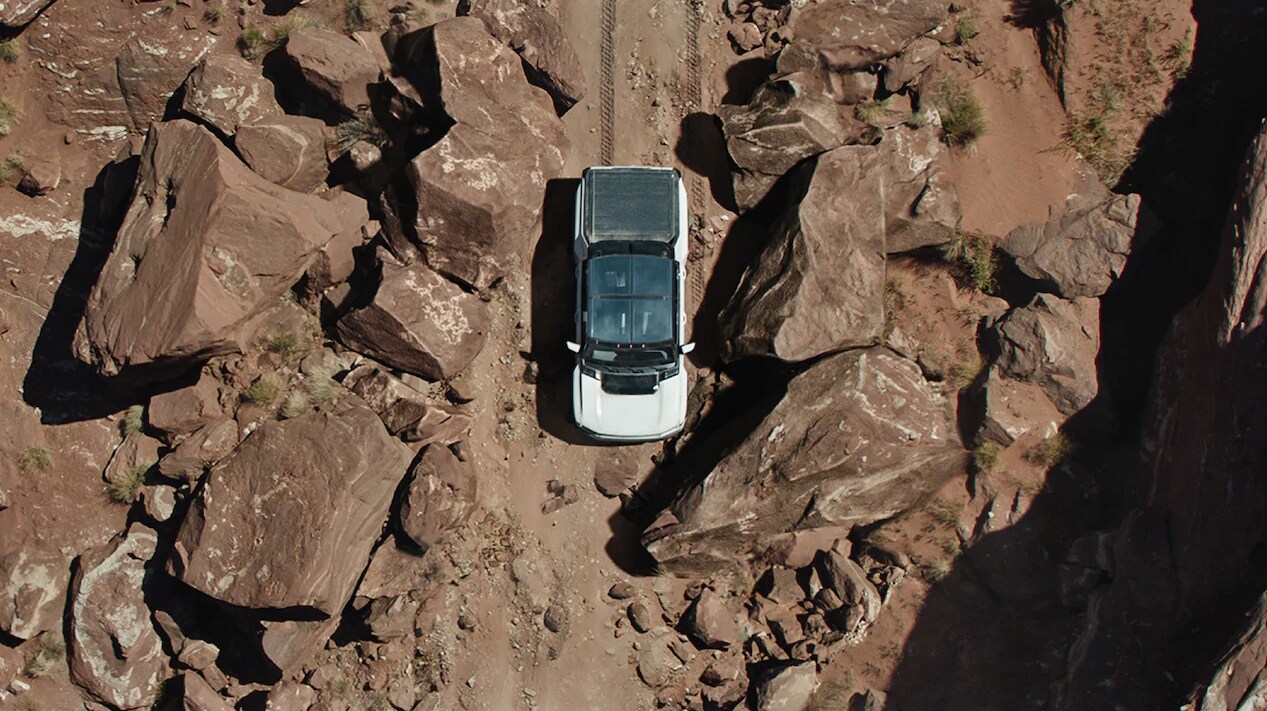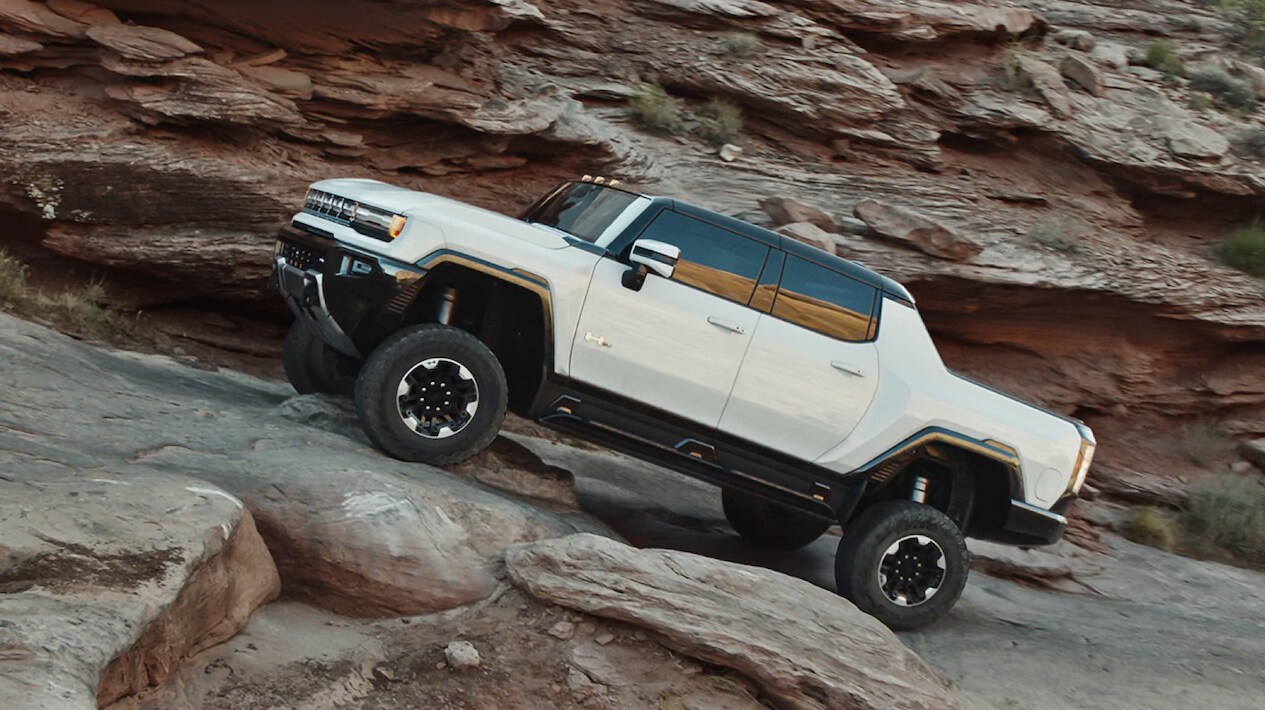 EXTRACT MODE
Need to get over or out of a tough spot? About to scrape the underbody and need extra height? Initiate the available first-of-its-kind Extract Mode, and HUMMER EV activates its Adaptive Air Ride Suspension to raise up approximately 6" to surmount tough obstacles - think scaling boulders or fording water.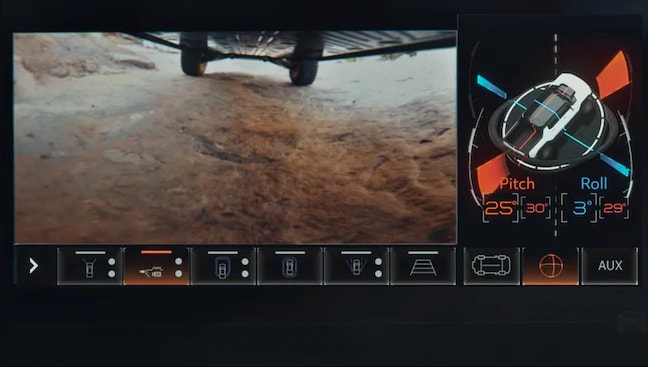 ULTRAVISION WITH AVAILABLE UNDERBODY CAMERAS
UltraVision offers up to 18 available camera views - including waterproof underbody camera to provide real-time views to help you pick your best line along the trail. They're forward and rear facing and strategically placed low enough to see beyond the skid plates. In addition, the underbody cameras include a wash function and replaceable lens protectors.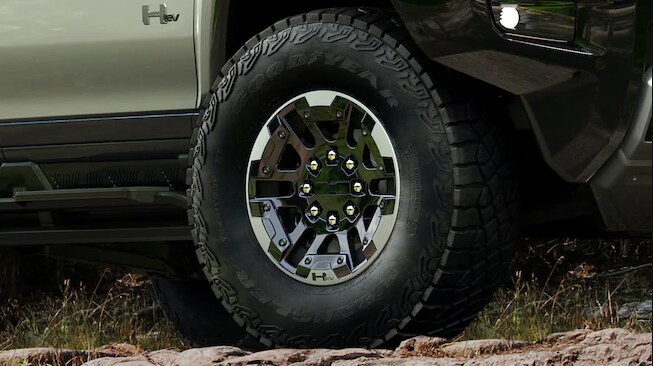 SPECIALLY ENGINEERED 35"
TIRES
It all starts with a towering ground clearance made possible by specially engineered 35" Goodyear* Wrangler All Territory tires for an optimal balance of on-and off-road performance. For those who demand more, HUMMER EV is 37" OD tire-capable.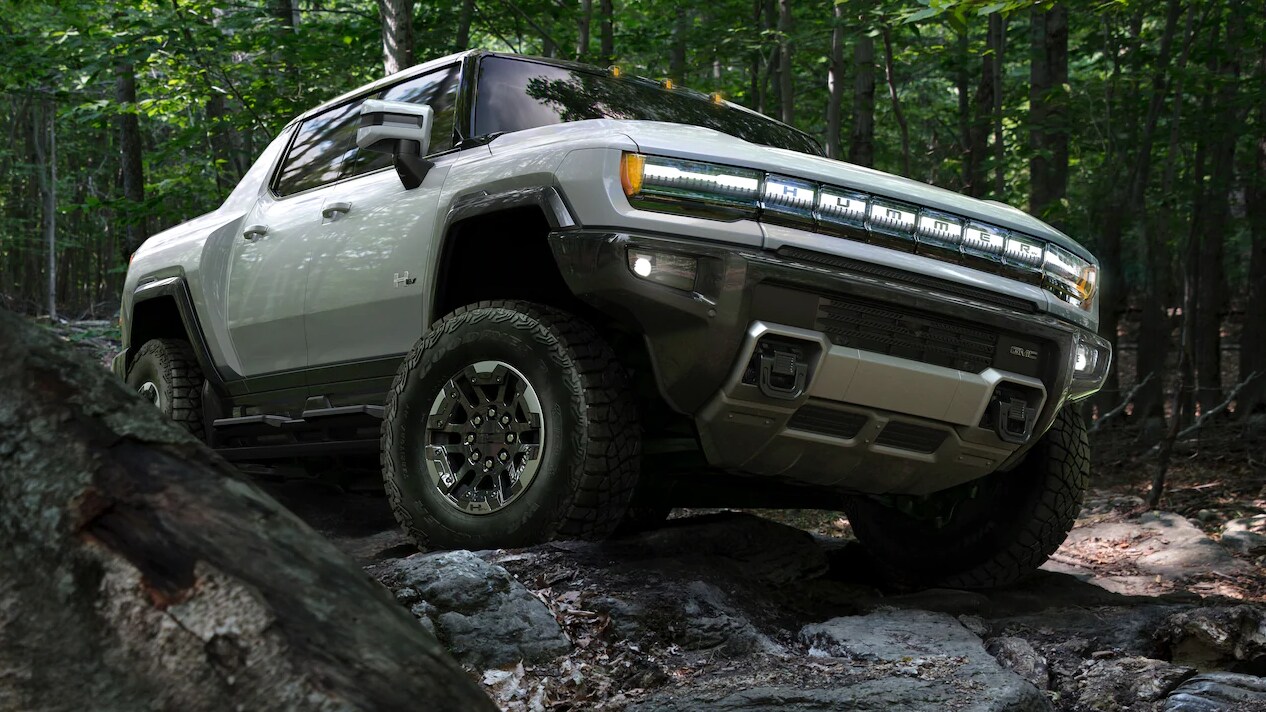 EXTREME OFF-ROAD CAPABILITY
Off-road dominance is engineered into every aspect of HUMMER EV. An independent front and rear suspension enable remarkable off-pavement handling and highway comfort, while front e-lockers and virtual rear lockers optimize traction. Also, available heavy-duty ball-spline half shafts help maximize articulation and reduce steering feedback hard cornering and off-roading.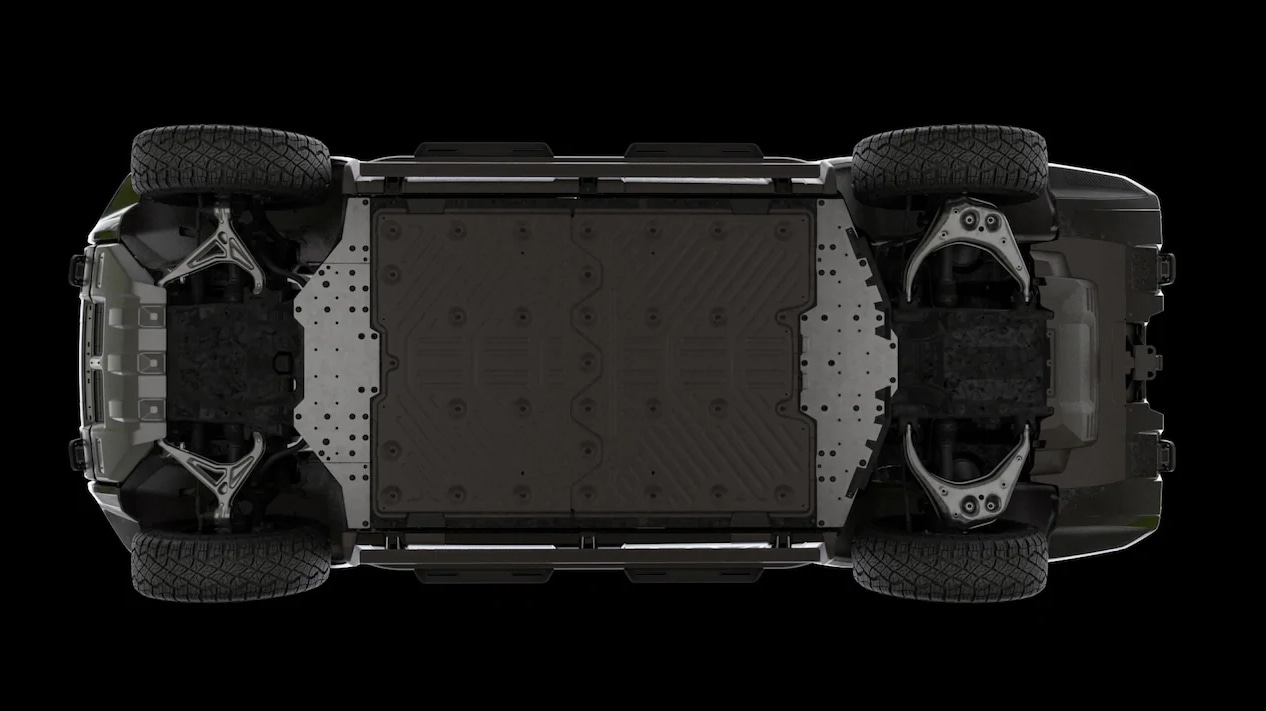 FULLY UNDERBODY ARMOUR
Utilizing sturdy steel plates and shields around the differential and battery pack, available full underbody armour and rock sliders help protect HUMMER EV in extreme off-roading environments.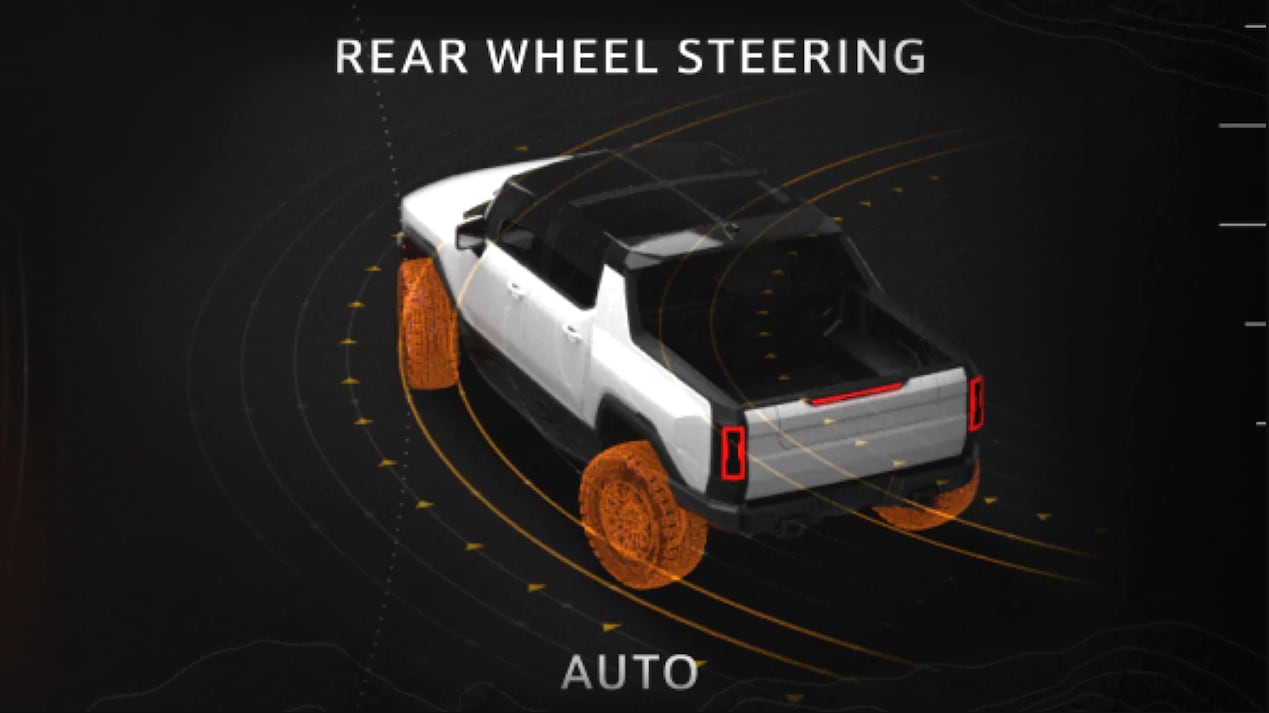 4-WHEEL STEERING
HUMMER EV is engineered to command precision in every driving situation. Available 4-wheel steering helps reduce turning radius and enables nimble maneuverability whether changing lanes on the highway, rock crawling on the trail or pulling into a parking spot.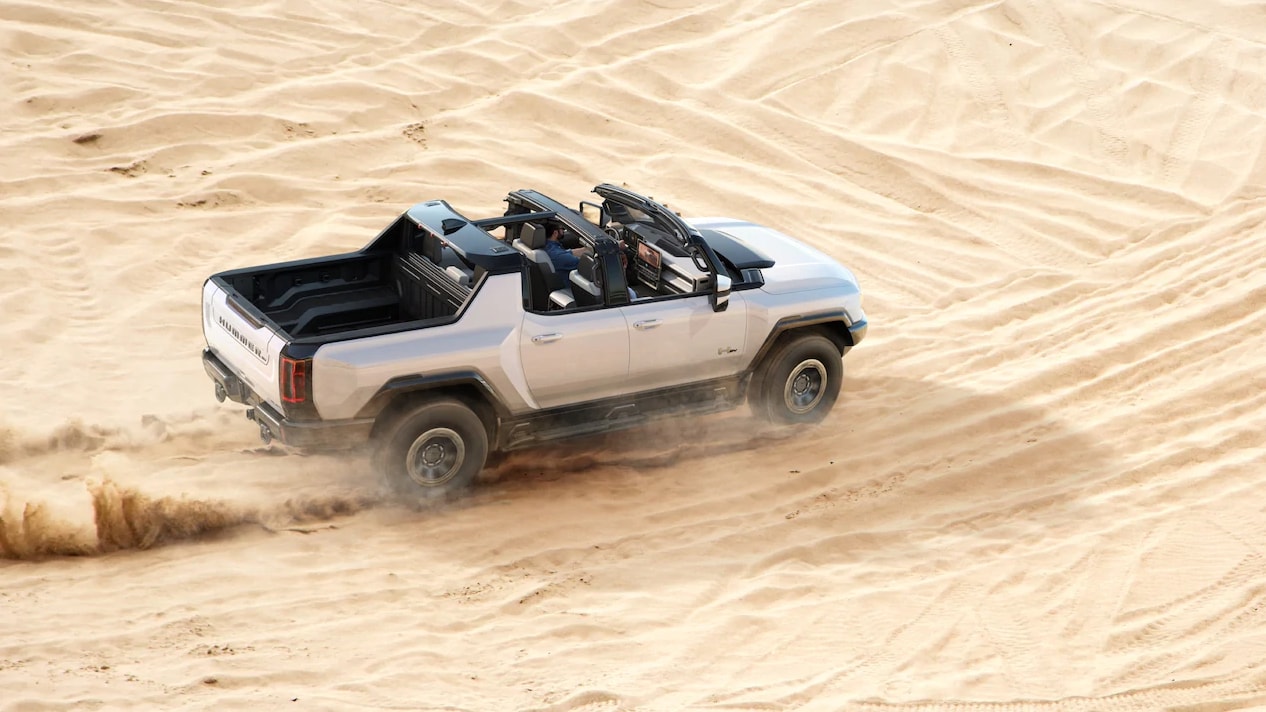 DYANMIC SUSPENSION
Available Adaptive Air Ride Suspension automatically adjusts HUMMER EV's ride height for different conditions - lower for better aerodynamics and easier entry and exit and up to 2" for improved ground clearance. And available Continuous Damping Adaptive Ride Control responds to on-road inputs by adjusting damping levels seamlessly for enhanced ride dynamics, and when off-road, it adjusts damping levels based on shock travel to unlock additional refinements.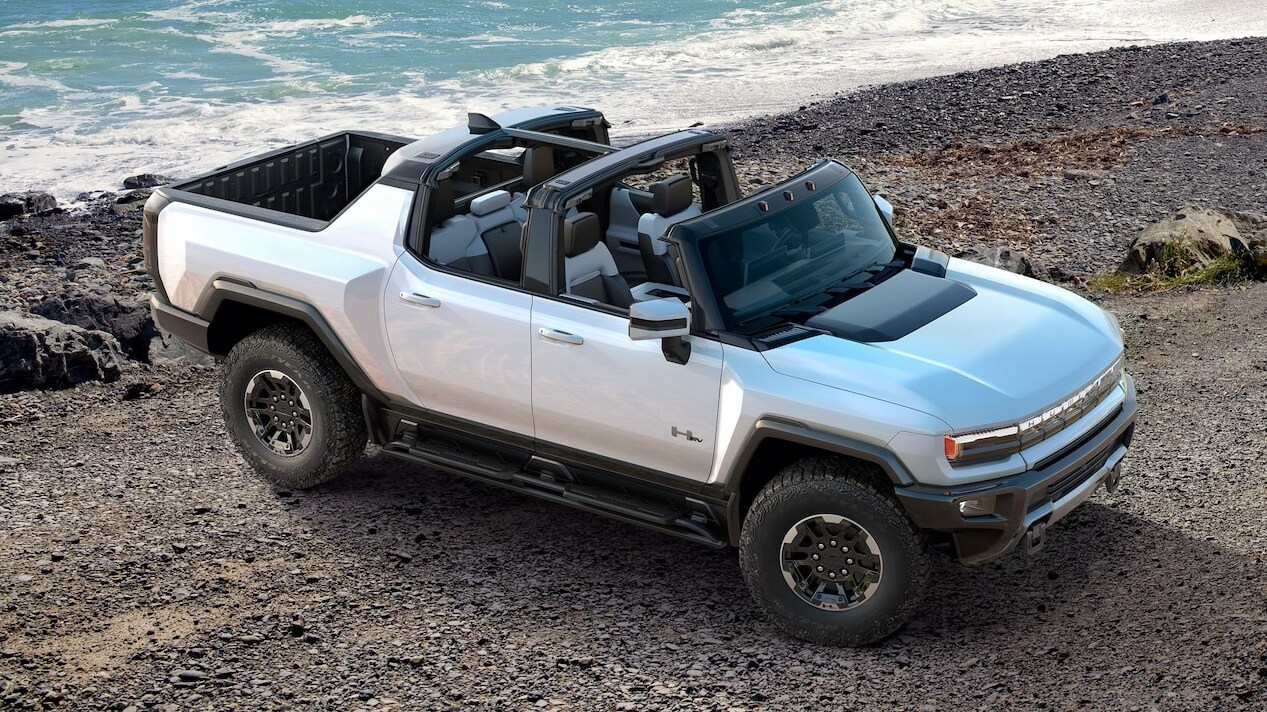 IMMERSIVE
INFINITY ROOF WITH MODULAR SKY PANELS
The industry-leading Infinity Roof and modular Sky Panels create immersive open-air experience. Let the world in by removing the four roof panels and storing them in the Power Frunk, stowing the front I-Bar and lowering the power Rear Drop Glass.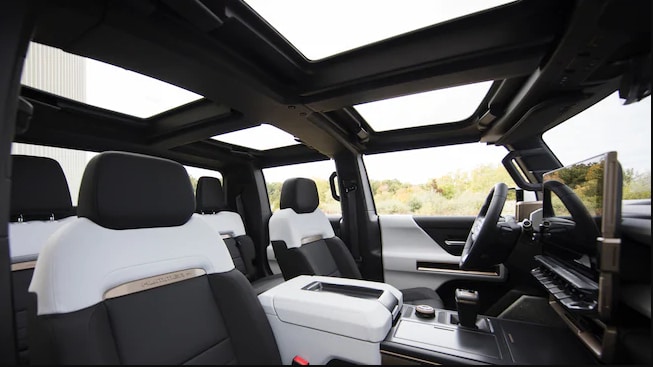 AVAILABLE TRANSPARENT SKY PANELS

See the sky without even removing the modular panels with the Transparent Sky Panels. They're tinted to deflect the sun and help protect you from the elements while providing breathtaking panoramic views.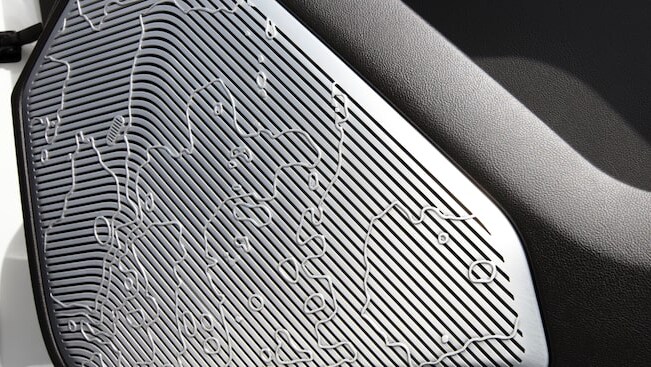 BOSE AUDIO SYSTEM
The Bose 14-speaker audio system with CenterPoint Electric Vehicle Sound Enhancement (ESVE) creates an acoustical experience designed for the HUMMER EV cabin.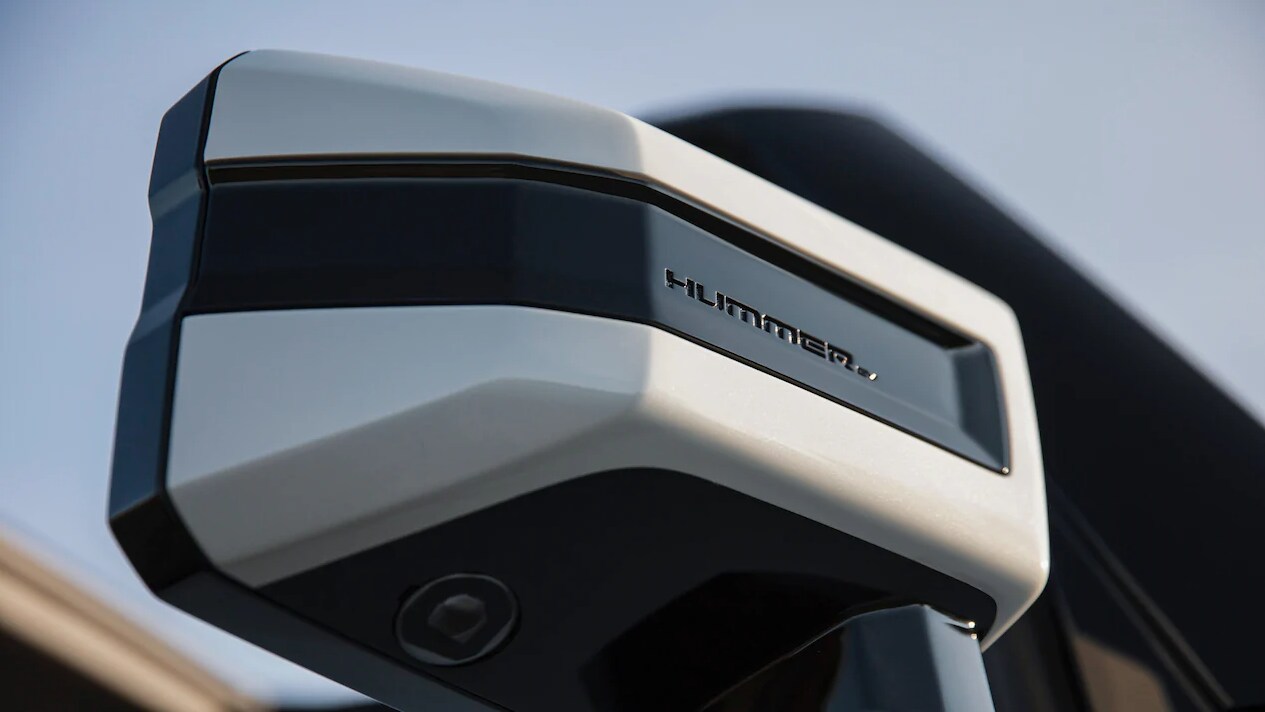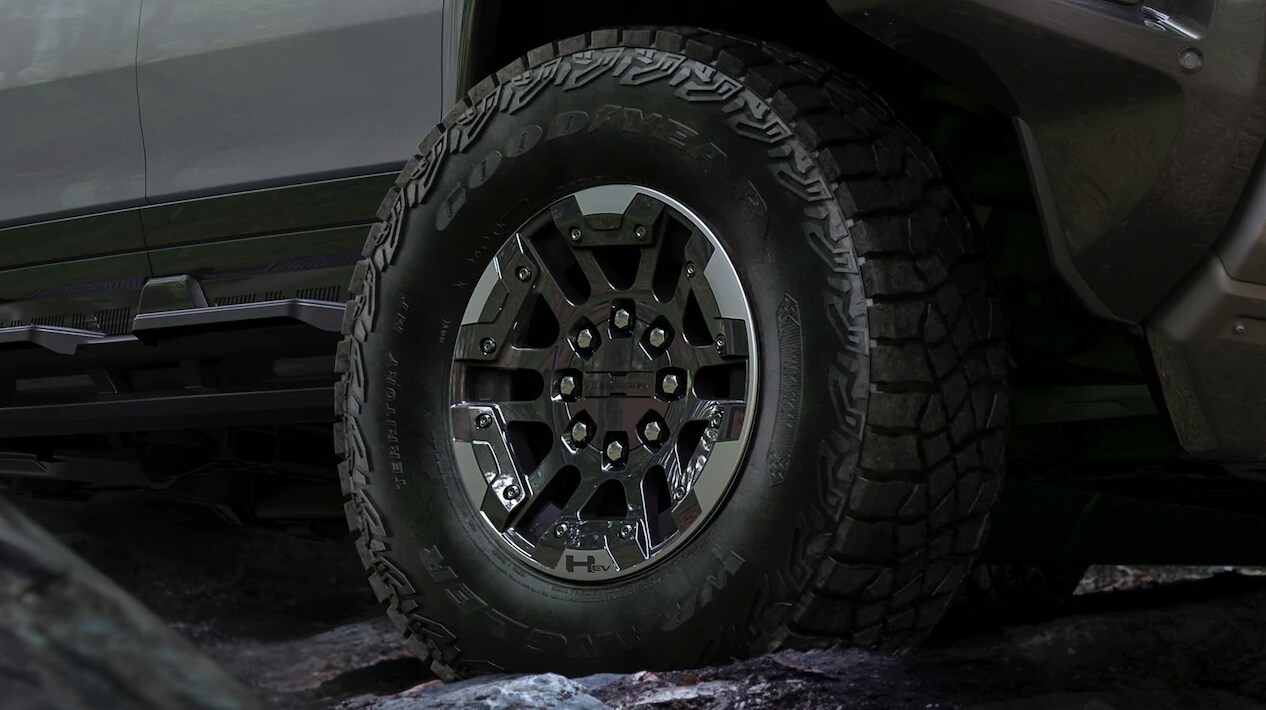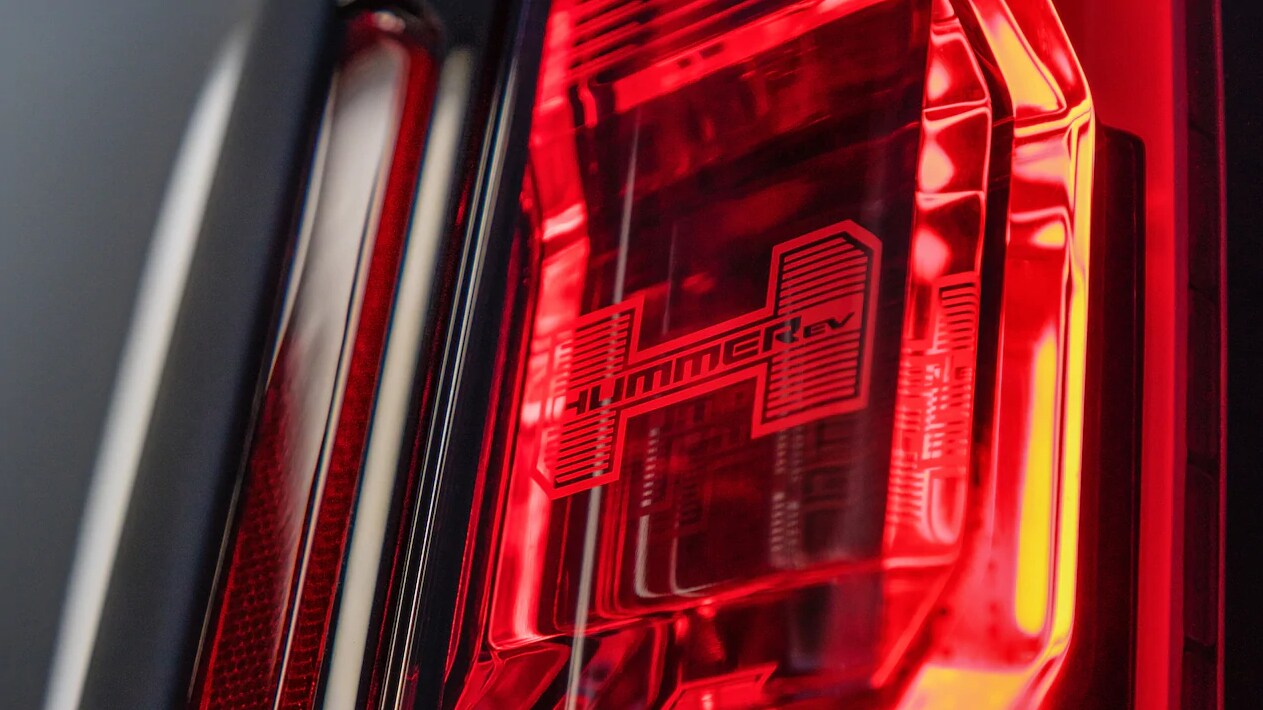 AVAILABLE WATTS TO FREEDOM
Up to 0-60 (0-97 KM/H) approx. 3 seconds is available
Available 1000 hp and 11,500 lb-ft. torque 
Lower center of gravity (cG)
Lower truck 2" for reduced wind resistance
Optimizes shock dampening, cooling and ride-height calibrations
NEXT-LEVEL TECH & DESIGN
It may be quiet, but HUMMER EV's revolutionary technologies and unmistakable design speak loudly.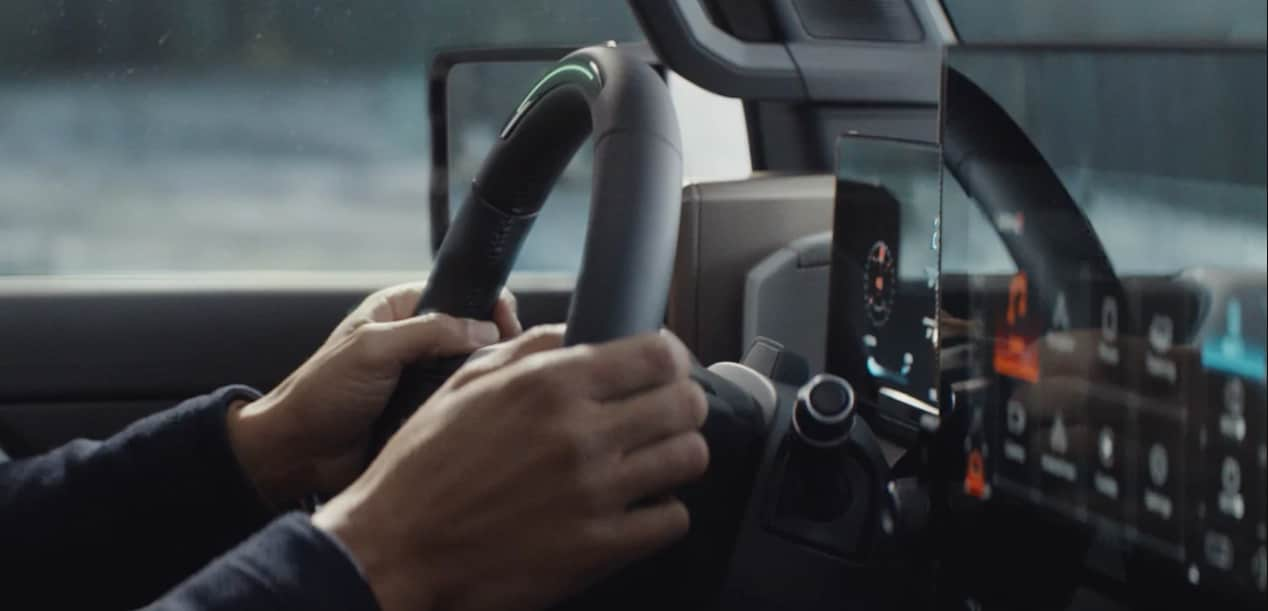 SUPER CRUISE
With the latest version Super Cruise, HUMMER EV will offer driver-assistance technology for hands-free driving with automatic lane changing throughout a network of divided and compatible roads.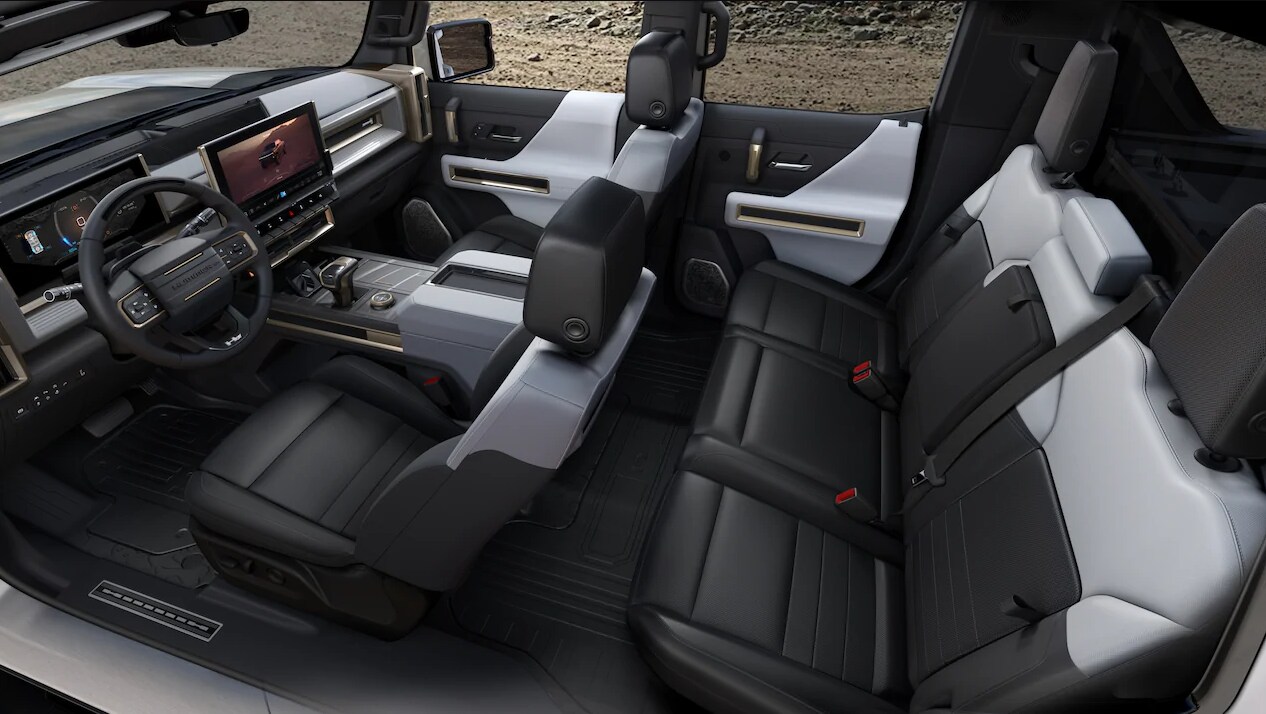 LUXURY INTERIOR
Like everything about HUMMER EV, its cabin was designed with unprecedented innovation and luxury.  Intergalactic travel and otherworldly landscapes are the inspiration for its Lunar Horizon themed interior. Discover Tech Bronze accents, durable all-weather flooring and more.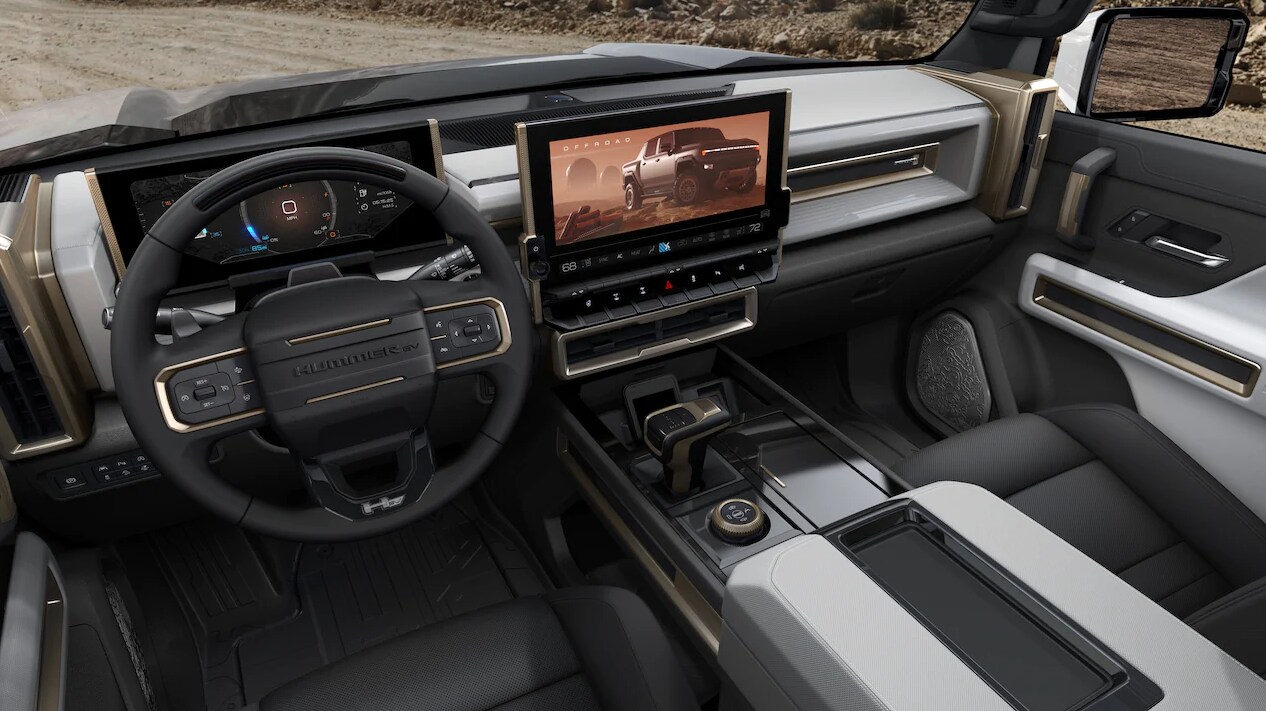 HIGH-DEF SCREENS
The center-mounted 13.4" diagonal colour touchscreen and a 12.3" diagonal colour Driver Information Center display put customizable data, settings and controls at your command. 
NEXT-GEN ELECTRIC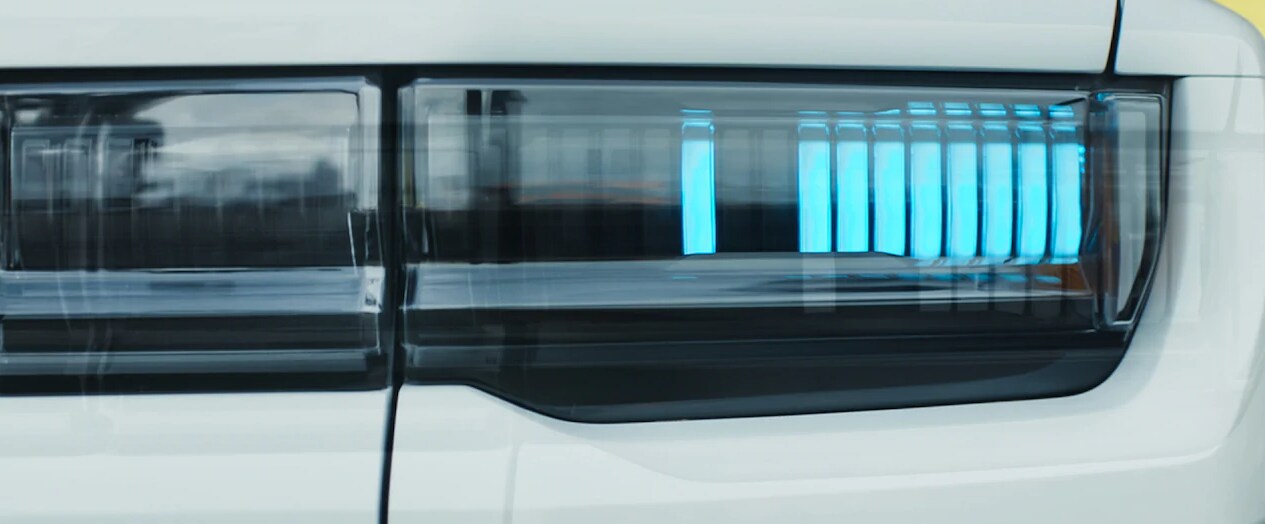 A LEADER IN CHARGING EFFICIENCY WITH ULTIUM BATTERY
GM estimated driving range of 560+ kilometers available on EV3X.
Compatible with 800V DC fast chargers up to 350kW to enable nearly 160 kilometers of range in 10 minutes of charging.
One-Pedal Driving and the Regen on Demand steering-wheel paddle harness the power of regenerative braking with range maximizing features.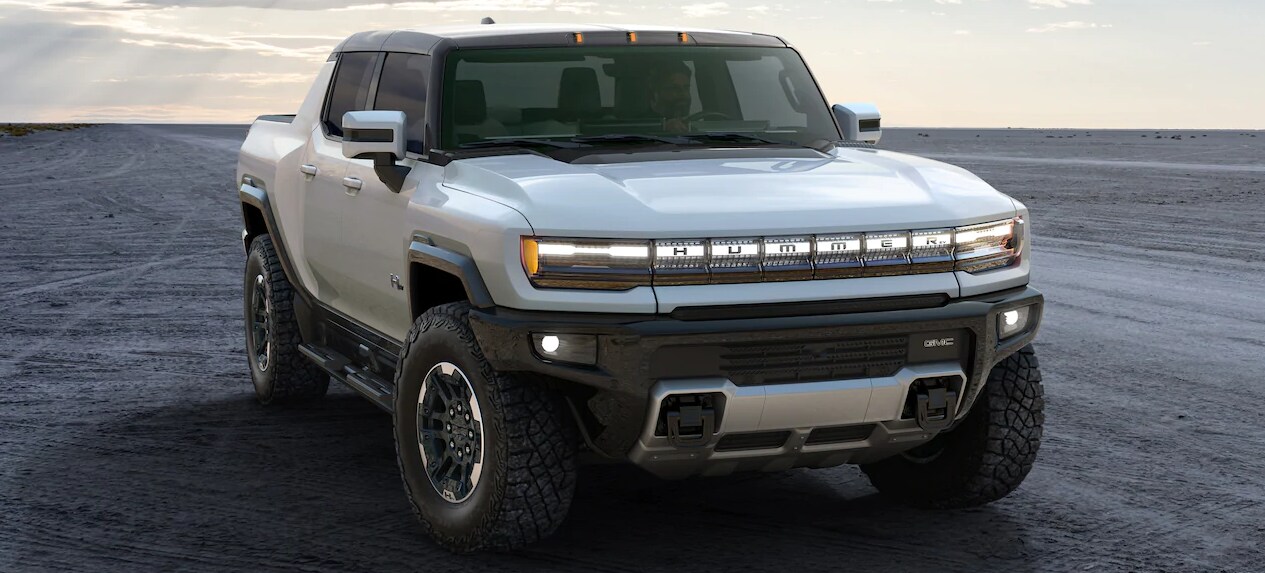 HUMMER EV TRIMS
HUMMER EV2
2 motors
Estimated 400 + KM range
625 hp / 7400 lb.-ft. of torque
HUMMER EV2X
2 motors
Estimated 480 + KM range
625 hp / 7400 lb.-ft. of torque
HUMMER EV3X
3 motors
Estimated 560 + KM range
1000 hp / 11,500 lb.-ft. of torque